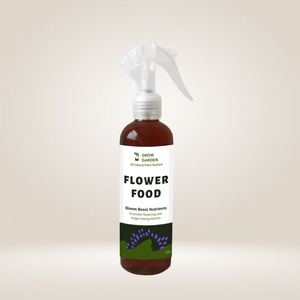 Flower Food Bloom Boost Nutrients 
Flower Food is a natural blend of minerals and plant-derived nutrients that promote flowering of flowers planted in soil and extends the freshness of fresh-cut flowers. Recommended for indoor, outdoor, and fresh-cut flowering plants.
Benefits:
✓ Promotes bloom growth and budding 
✓ Promotes strong stems for improved nutrient absorption
✓ Promotes alkalinity and good soil health essential for flowering plants.
✓ Safe to use in and around the home
✓ Ready-to-use no need to dilute or mix
Directions:
Water the plant. Spray Flower Food directly into the water or soil. Avoid spraying on blooms. Shake well before use.
How many Sprays?
To start, spray once every two weeks and increase or decrease gradually depending on your plant's specific needs.
Small plants : 3 - 5 sprays ( 2 - 3 ml)
Medium plants : 6 - 10 sprays ( 4 - 6 ml)
When to Spray?
Spray early in the morning or when the sun is down to avoid leaf burn. Spray one day after using Plant Pest Repellent.
Specifications:
Type: Quick-release plant nutrient
Appearance: Dark brown, liquid
Smell: Mild fermented scent that disperses quickly after spraying.
Storage & Care: Store in a cool dry place, away from direct sunlight
Shelf-life: 12 months once opened
Changes in color and consistency are normal and will not affect the product's effectiveness. Shake well before use.
IMPORTANT: Please read our ordering process. Click here.