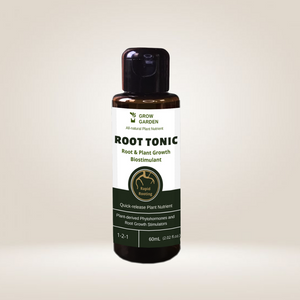 Root Tonic Root & Plant Growth Rapid Rooting Biostimulant 60ml
Grow Garden Root Tonic combines plant-derived phytohormones & auxins to promote root branching and seed germination. It's perfect for establishing vigorous growth of cuttings and potted plants. For best results use in conjunction with Plant Food and Soil Food to complete the synergy between our Houseplant Care Range.
Benefits:
✓ Helps plants establish a healthy and vibrant root system
✓ Stimulates rooting for cuttings, propagation, transplants, and seeds
✓ Improves plant resistance to fungal disease, root-feeding nematodes, and insect infestation
✓ Safe to use in and around the home
Directions:
For Potted Plants: Squeeze 3 drops of Root Tonic into the soil. Water thoroughly. Apply once every two weeks. Use in conjunction with Plant Food and Soil Food.
For Cuttings and Seeds: Evenly coat seed or cutting with 1 drop of Root Tonic. Plant immediately in moist media. Shake well before use.
When to Apply?
Use for established plants and seedlings at least 5 in. tall
IMPORTANT: Please read our ordering process. Click here.